... using ground Ginger from the spice cabinet.
The Ginger pulls out the toxins and loosens up the sinuses and lungs!
As with all natural remedies this may or may not work for you!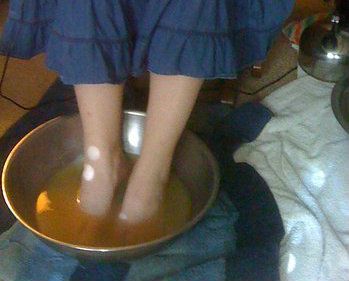 Boil water in tea kettle.
Sit on chair with a towel under the dishpan.
Start with 2" of hot tap water.
Add heaping TBSP of ground Ginger to pan of water.
Soak feet. As water cools off add more hot from tea kettle sitting nearby.
Soak for 45 minutes. Ginger will make feet feel very warm.
Takes away cough, cold, and sore throat...or anything that ails you!! LOL!!! Feels sooo good!
A good time to sit and watch a movie or read a good book!
Your feet will get tingly and hot from the ginger!
I learned it from the book The Ten Essential Herbs book.
It is my favorite for herbal remedies using common herbs like ginger, cloves, cinnamon, etc.
It is an interesting read with testimonies, etc.
JayBerry read it in one sitting! Click on link to buy the book http://amzn.to/VIYddb
Then slather the bottom of your feet with Vicks or preferably natural medicated salve, I like Unker's, and put on a pair of clean socks.
(If you do this for children at night it takes away the cough so they can sleep!)
It will be cold then warm but will stop the cough!
Can put on chest too, if you don't mind the smell.

Link to buy the medicated salve: Unker's